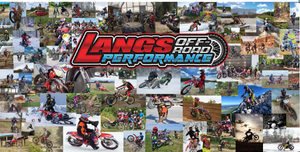 Back Up and Running
July 1, 2021
We are back into our new store, still setting things up.
Aug 3, 2021
From Rob Lang
The last 8 months have left me overwhelmed with gratitude to both my local community and Canada's riding community. The morning of October 22nd was one of the hardest mornings of my life. In that moment, I couldn't have dreamt of the blessings it would send to me. Since then, I've been blown away by the generosity of everyone and the kindness of friends and strangers. There have been hard moments and days since that morning, but they've each been replaced with smiles and gratitude at the kindness you've all shown me.

As we settle back into our "new" shop, I'd like to take a moment to thank some by name and others by task.
Thank you, Craig Sulyma. You've been right beside me for all of this and I appreciate how you donated your home as a temporary showroom, drop off and pick up point, worked to accommodate customers with extended hours, and have gone above and beyond to provide customers with the service they've come to expect from us. Thank you, Roma Sulyma, for allowing us to disrupt your home and life with this!
Thank you, Ken, Michelle, and Kenny Henderson, for graciously offering the farm workshop as a temporary shop for me to continue repair services, storage for equipment, warehousing of inventory, and help with cleaning and sorting.
Thank you, Harry Huigenbos, our property owner. You also woke up on October 22nd to see your building destroyed, and I appreciate how you worked with me to rebuild, acted as subcontractor, navigated through COVID regulations, building supplies shortages, and helped me to get up and running as quickly as possible.
Thank you, Grant Huigenbos, owner/operator of Bos Equipment, for accepting all of our incoming parts and bike shipments, for being a pick up and drop off point for customers, and for fabricating our new entry cage and security bars.
Thank you, Kevin Perry, for helping with transportation, shuttling parts and bikes around, and for helping me in the shop when I needed a hand. Thank you also for all of your runs to the post office, and for all the coffee and doughnuts over the winter!
Thank you, Matt Stone, for helping me get through a busy winter season of wrenching, along with helping clean and organize what was recovered from the fire.
Thank you, Art Ash and Andy Gale, Presidents of the OFTR and SOCT respectively, for starting a Go Fund Me page. To all of you that contributed, thank you so much from the bottom of my heart!
Thank you, Naylor Systems & Chicago Pneumatics, for donating a new compressor. Thank you, Daryl Spain, for facilitating that and for the professional installation of the new air system.
Thank you, Dmitry Sokolov and HP Canada, for helping us get our new IT equipment arranged and up and running.
Thank you, Dave Taplay, owner of Taplay Fire Protection, for installing our new state of the art security system.
Thank you, Rick Post and Spring Marketing Solutions, for the continued help with monitoring our social media and digital presence.
Thank you, Rick Post and Amber Stairs & Railings, for the gorgeous new showroom counter top.
Thank you, Darko Helm and Insta-All Sign Service, for your time and wonderful presentation of our large format pictures and the huge collage wall of rider photos behind the counter.
Thank you to all who helped slowly sort through all of the soot covered products, tools, and equipment! Matt Stone, Aaron Wilcox, Jeff Belanger, Ray & Kevin Perry, Kenny Henderson, and all others who I may have missed.
A huge thank you to everyone who helped us move out of the burnt shop at the end of October. I'm sure we may have missed some of your names in that whirlwind, but thank you to Murray McPhail, Thomas Gora, Carl McIntyre, Nate Meyer, Stewart Alton, Richard Bryant, Jon Orchard, Chris Greig, and any others!
Thank you, everyone, for your support over the last 8 months. It has truly been overwhelming and has brought me to tears. Thank you for your kind words and messages, thank you for your donations of time and finances, thank you for your purchases of motorcycles, parts, and accessories, and thank you for sticking with us when it got hard.
We are so excited for you to come and see our new and improved shop and showroom, and we're planning a huge grand re-opening party for later this year! Stay tuned for details on that, because it's going to be great!
To anyone I may have missed by name, thank you. You know who you are. I've appreciated everything you've all done for me. I hope I can give as much back to the riding community as you have all given me!
With gratitude,
Rob Lang.
Oct 14, 2021
Update on our blog post as it has been awhile.
We are back in full swing now, still a few minor things to finish over the slower winter months in our shop and store, but we are here full time and back to something we call familiar and home. With all of the worlds uncertainties and changes seems daily we are limiting our in store hours to Monday-Thursday 9am - 6pm Friday 9am - 5pm, and Saturday 9am - 1pm. As we have always done any long weekend holidays we will be closed for the full weekend.
We are now a YETI dealer, as we are learning more about the brand please be patient until our experience level improves as we have as many questions as you might have.
The world as we know it is changing and we are constantly being told from our suppliers that increased costs are coming, majority of these costs are coming from the shipping world, we will try to keep our prices as competitive as possible but foresee prices increasing in the future, if we have it in stock and you think you will need it soon, now is the time to get it.
---